What is Kobe beef
Among the beef which satisfied the world's most strict standards among the Tajima beef which is the lineage of pure-bred of Tajima beef and fattened by specific farmers in Hyogo prefecture for at least 2 years and 4 months (28 months or more) and it was processed to dressed carcass is stipulated. Then it is allowed to be named as either one of the three titles, "神戸牛(Kobe Ushi)", "神戸肉 (Kobe Niku)" or "KOBE BEEF".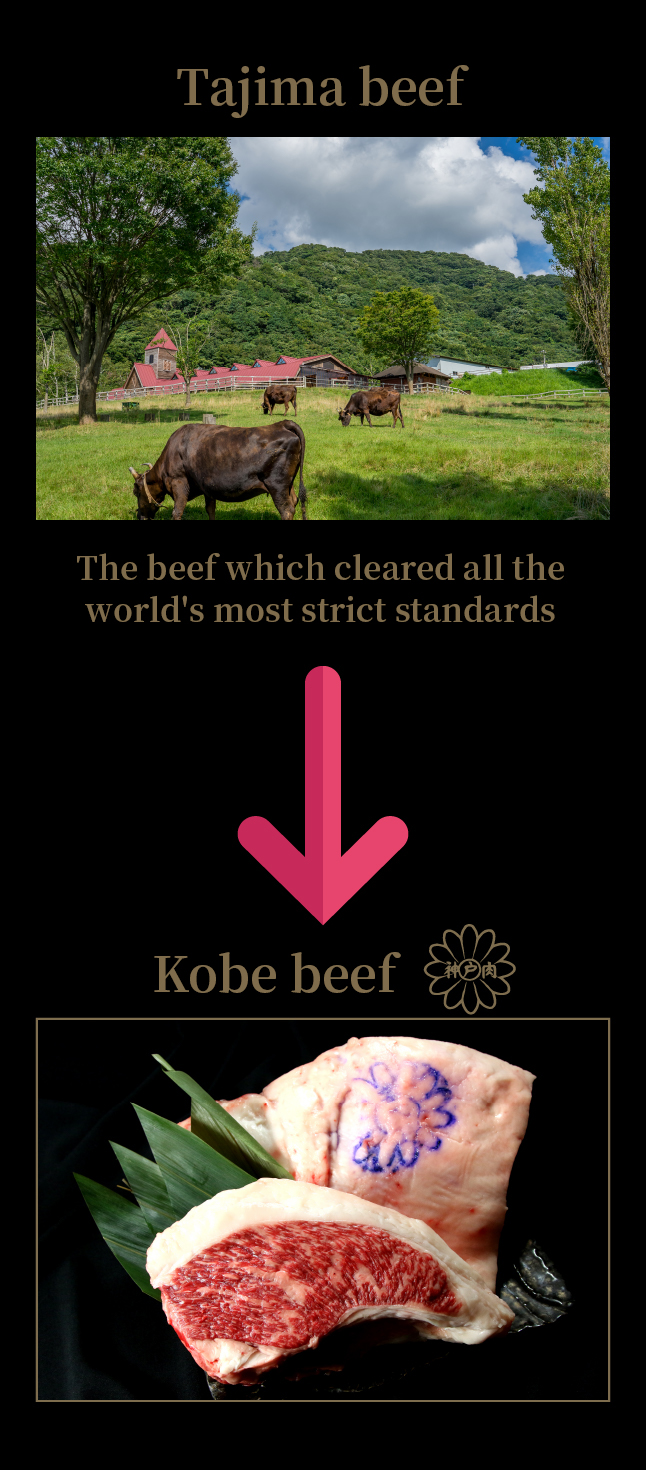 What is Tajima beef which is the root of Kobe beef?
The designated registered producer of the Kobe Beef Marketing & Distribution Promotion Association fattens the cows in Hyogo prefecture which has been protecting the lineage of pure-bred from the past (Edo period) until now. The beef shipped to the meet processing center afterwards in Hyogo which is within 2 years and 4 months (28 months) to 5 years (60 months) after the birth and has a yield grade of either A or B is called Tajima beef. Tajima beef has fine muscle fibers made from its superior lineage and strictly managed breeding environment. Futhermore, Tajima beef gets Sashi (A condition where the fat is finely mixed with the lean meat. It is also called as marbled beef.) easily resulting to a smooth and soft texture and mild taste. Additionally, aside from Kobe beef, Tajima beef is also being bred as a breeding cattle of Matsusaka beef and other highclass beefs.
Kobe beef equals to Tajima beef which has cleard the world's most strict standards
As written above, only the cow which has passed the strict examination with higher standards than Tajima beef (which also has a strict standard) can be certified as "Kobe beef". The most strict examination standard above the three greatest beefs in Japan which are Kobe beef, Matsusaka beef and Oumi beef is set for Kobe beef. Additionally, Kobe beef has been featured as one of the world's most expensive 9 kinds of food by medias in abroad and gaining tremendous popularity from foodies and chefs around the world.
Definition of Kobe Beef
Kobe Beef should be selected from Hyogoproduce Tajima Beef defined by Article 20 and the cattle must be a heifer or a steer. The following conditions should be required to fulfill for Kobe Beef. Kobe Beef or Kobe-niku can be called "KOBE BEEF," "Kobe-gyu" or "Kobe-ushi."
〈1〉Yield score : Score of A or B Meat quality score: Score of 4 or above.

〈2〉 Marbling -The BMS level of marbling must be No.6 and above.
〈3〉Dressed carcas weight -Forcow, it must be 270kg to 499.9kg and for steer, it must be 300kg to 499.9kg.

〈4〉 Other -In case that the any damage was founded in the carcass, the commissioned meat delivering company or commission member of the Association, shall check it and judge that it should be "Kobe Beef" or not.
Flavor of Kobe Beef

Kobe Beef's fat is finely mixed with its lean, and it will be brilliant and beautiful "Sashi" so called Shimofuri (Fat marbling). Once Sashi is heated, it will melt smoothly with lean around it, and make the texture mild.

Since the melting point of Kobe Beef's Sashi is very low that it will start to melt by the body warmth, there is no heaviness, and superior flavor will fill the mouth throughly adding mildness and richness to its flavor.

In addition, it is also the greatest allure of Kobe Beef that variety of flavor's expressions can be entertained with different parts used in the different styles of cooking like steak, Yakiniku, Sukiyaki, Shabu shabu and so forth