About Yakiniku Douraku
We are an authorized dealer of the KOBE BEEF
Regarding the distribution of the raw meat of Kobe beef, It has been obliged to attach this GI mark to all. There are also severe penalties for violators. "Kobe beef" is officially recognized as a beef that has been certified by the government and is literally representative beef of Japan. Yakiniku Douraku offers genuine Kobe beef to the customers as an authorized dealer.
We purchase high-quality Kobe beef
We are an authorized Kobe beef dealer
We provide the best Kobe beef
We only offer the high-quality branded Wagyu beef
Yakiniku Douraku provides not only the Kobe beef, but also the high quality branded wagyu beef. In addition, with purchasing by the cow, we will realize a reasonable price range compared to the general market price. You can enjoy even the rare parts that are difficult to find in the market, which were previously known only by the foodies.
Only the high quality materials
are carefully selected
Wide range of choice from
popular parts to rare parts
Carefully cooked
by professional
Clean and aesthetic shop interiors
We have adopted a stylish design space and interior, unlike a typical Japanese yakiniku restaurant. In addition, all seats are equipped with smokeless roasters, so you can enjoy yakiniku without any worries about the smell of your clothes. We have table seats and private rooms, so we can accommodate from small groups to large numbers of people such as families and friends.
Good location with the excellent accessibility
Yakiniku Douraku stores are located in the walking distance from each station. Each store is in the center of downtown. They are located in a convenient place to visit after work or shopping on holidays.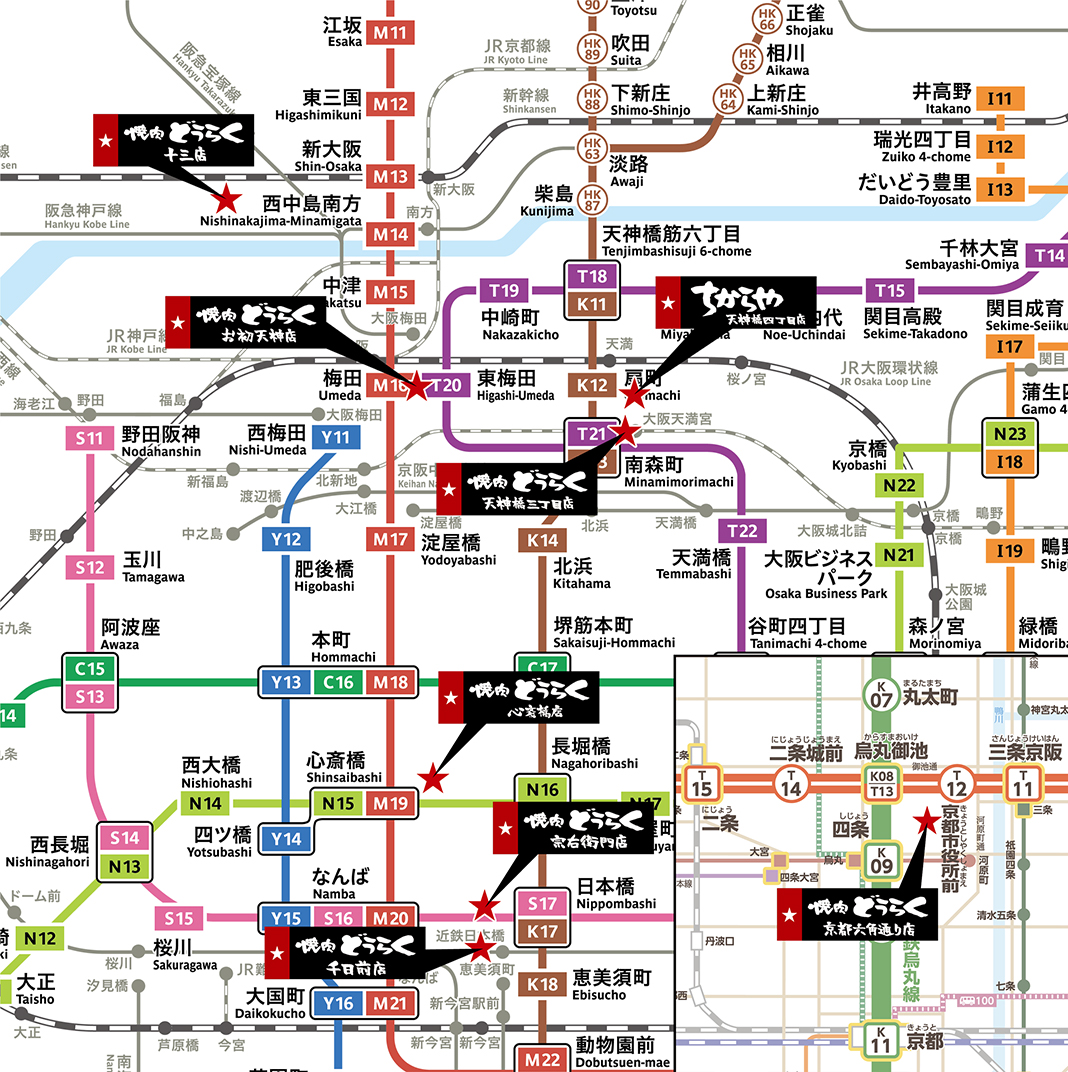 We have received tremendous support from tourists in Japan
Since the opening of the first Kansai store in June 2018, Yakiniku Douraku has been visited by tourists from many countries. Our hygienic environment, quality and affordability of meat, the language support system, etc. are all highly evaluated. (we've received ★★★★★ evaluation from about 98% of people who reviewed).
Posting page of Dianping
Posting page of TripAdvisor
Posting page of Google
Reliable multilingual support
In our stores, the multilingual (English, Chinese, Korean) ordering terminals are installed on all the tables. You can place your orders without any stress. In addition, all menus have pictures of the dishes, so you don't need to worry about making wrong orders.
Multilingual ordering terminal
Multilingual menu table